The Betrayer
September 14, 2011
"Trust me, my dear," the shadowy woman said as she began to disappear into the darkness of the forest. "Mother always knows best."
And then she was gone, swallowed by the black trees. I rubbed my arm where she had grabbed me so forcefully only moments before and spitefully muttered, "Step-mother." Then, a moment later, I sighed. "Oh, she's right. He'd never like me if he knew."
"Knew what?" The noble voice of the Guardian Alexander pierced my thoughts and brought me back to the reality I was so afraid of: the fire in the forest, his chestnut horse tied to a nearby tree, and it was just the two of us. Alone. No one else knew our location.
"Oh, nothing," I tried to say convincingly, my dark curls falling over my shoulder and reminding me – painfully – of my heritage. I glanced up at Alexander's curvy golden hair and sighed, turning away from him. Then his hand was on my shoulder.
"Danica," he said quietly. I froze, slowly turning to face him. His soft blue eyes met my dark ones, and I knew he'd overheard.
"You saw, didn't you?" I asked him, though I knew the answer before it was spoken from his lips.
"Yeah, I saw."
"She's not my mother, Alex," I said with a sigh. "She's just my stepmother." There was a long pause. For a moment I thought he wouldn't answer. And then I heard his voice, a whisper in the darkness.
"Danica, who is your father?"
I didn't pause for long. I decided now was the time to tell him. I couldn't keep hiding who I was. So, turning away from his gaze, I answered. "The Dark King."
His hand left my shoulder.
"What?" His voice was quiet, shaky. I knew he didn't want to believe it. I didn't either. But it was the truth, and a man like Alexander deserved the truth, however painful it may be to hear it.
"Before he was king, my father was married to my mom, Emily," I explained. "Then he met my step-mom, and they were married, and then…I was thrown into a world of chaos. Now I'm the bad guy, and I don't want to be."
"You don't have to be," Alexander said instantly. I knew he would. But he didn't know. Not yet.
"No, you don't understand," I told him. I glanced down at the shimmering golden ring that was latched permanently to the ring finger of my left hand and turned it over to reveal the symbol of the Dark King – the red magic pulsing through the engraving like a heartbeat. "I'm bound to the dark side. And when I turn eighteen…I'll be the end of the world."
Alexander's voice was serious now. "What do you mean?"
"On my eighteenth birthday, I will bring you and the rest of the Light Kingdom to their knees." It hurt to say it, but it was time he knew. It was time for me to make my move and get as far away as I could from him. Because it didn't matter where I was in the world; he was going to become a slave to my evil father. Or worse – he was going to die. I just didn't want to be there to see his face when I did it.
Again, a long pause. My heart was pounding, but I ignored it. All I heard were Alexander's next and final words to me, his voice edging toward anger. "Then what are you doing here?"
I sucked in a deep breath, turned, and looked him in the eye. "Falling in love with you."
Then I ran.
He didn't follow.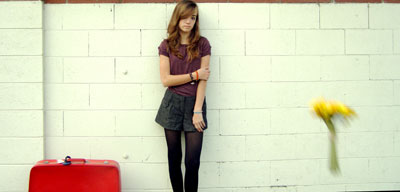 © Austin K., Studio City, CA