From Under the Helmet
November 14, 2009
My breathing sped up as I stepped up to the plate. My arms were raised just high enough that my bat was steady and level. She looks at me with her daggering eyes. I stared back. I wasn't going to back down. I would not be afraid of her.

"Eye on the ball," my grandfather yelled. It was funny that his voice was the only one I could hear from the crowd. It was probably because he was the loudest.

My eyes never left the pitcher. Her stare never softened and neither did mine. She began the whine up. My breathing quickened even more. It echoed in my helmet. She threw the pitch. It was low.

"Good eye," I heard my team say.

"Just remember, don't swing at junk," I heard the assistant coach say from third base.
I stepped out of the box and took a practice swing. It was smooth and powerful. I turned to look at Coach. He gave me the signal to hit it. I stepped back in the box.

My nerves kicked in. Adrenaline empowered me. I tightened my grip on my bat. I looked at the pitcher. Her daggering eyes burned through the bars on my helmet. I stared back at her even harder than before. I wanted to make her mad. It worked and she gave me what I wanted. She pitched me a strike.

The ball hurled towards me. It was laughing at me. He was about to get it. My grandfather's words echoed in my mind. Watch the ball, watch the ball. I started my swing.

Silence covered the field. I could not hear a thing. It was just me and the ball. My wrist turned to make my bat go in a circle. BING! The sound of my bat hitting the ball broke through the silence. The surrounding noises came back in screams.

The adrenaline rushed to my legs. I dropped the bat and ran. I had no idea where the ball went, but it didn't matter. My main priority now was to get to first base. As I approached first base in full speed, Coach told me to keep going.

"What?" I thought to myself, but I didn't hesitate to second. That was when I saw the ball. It was still in the outfield! No one had gotten it yet! I bolted! I yelled at the player in front of me to run to home. My foot hit second as hers hit third. The ball was in the player's hand as I sped to third. I hit third and ran towards home. The pitcher had the ball.

Silence came back for one last run. The ball left the pitcher's hand. I was half way to home when the catcher got the ball.

"Only one thing to do," I thought to myself. I sped up and headed in for a slide. My left foot was stretched towards home plate. My body was close to the ground. I looked at the catcher. She had to be the dagger eye's sister. My foot hit home plate. I thought I was safe, but it was all up to the umpire. I turned and looked at him. Everyone waited.

"SAFE!" I fell flat on my back and sign a quick sigh of relief. I then got up and headed to the dug out. The team was ecstatic! They were yelling and cheering and hitting the fence! Not a one of them was sitting down. I turned around and looked at the crowd. My family and friends were all up and cheering as well! I could see my grandfather's big smile. It was clear that he was happy. That was all that mattered. I took off my helmet and smiled back, hoping that he would see it.

The cheering was much louder in the dug out. It echoed! High fives and hugs were passed around. I was just happy they didn't slap my butt! I finally sat down and devoured my entire bottle of water, but I was still thirsty.

"Need more?" I heard someone say from behind me. I turned around and saw my grandfather standing there with a full bottle of water. His smile was still in place. I went to see him.

"You did great! I'm so proud of you," he said as he hugged me. I hugged him back. I guess he didn't mind that I was sweating like crazy. I didn't mind it at all. All I knew was that my grandfather was proud of me. That was all I needed to know.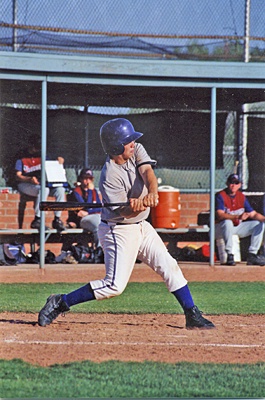 © Mark A., Phoenix, AZ