Leading Through Service
April 13, 2016
When one thinks of a leader, the image that is conjured up would most likely be someone who is able to command others; a visionary whose ideas are able to change the course of human history. They must be charismatic, ambitious, opportunistic, tenacious, and many other qualities that are often hard to find in an individual. These qualities are nothing to look down upon; in fact, if someone was able to emulate all of these qualities, they would make a great leader indeed. However, being able to make people throw themselves into action at a word is not the only characteristic of being a leader; one also needs empathy and self-sacrifice.
One leader who has inspired me since a young age is Harriet Tubman, nicknamed Moses. She was an African American slave in Maryland, who escaped to Pennsylvania in 1849. This was a chance for Tubman to be freed from slavery forever, and to be her own "owner", but she chose to use her freedom to help other slaves obtain the independence that she had found. Over a span of ten years, Tubman freed 300 slaves, and was able to proudly say that she had never lost a single passenger (Harriet Tubman). Tubman was one of the key orchestrators of the Underground Railroad, devoting her life to abolitionism because she knew firsthand the hardships that the African American slaves had to endure. Even though Tubman was doing all this for the well-being of others, she was very firm with her passengers, and would even threaten death if they showed signs of wanting to return to their plantation. This combination of empathy and determination was what made people want to follow Tubman; that, along with the fact that they were able to trust her. Every time Tubman made a trip back to the South, she was risking her own life because there was an outstanding reward for her capture. This threat, however, did not stop Tubman from rescuing her fellow slaves, and ensuring them the freedom she herself had fought so hard to have.
After hearing Harriet Tubman's story of self-sacrifice and passion, I learned that being a leader is not just about ordering people around and making them feel useless—it is about putting the safety of others before one's own and doing everything within one's power to ensure that the goal is met. Once I understood those characteristics, I tried to mimic Tubman's leadership style in my own leadership roles. Instead of telling fellow students to sacrifice their time to give back to the community, I was the first one to volunteer at all the school events. Instead of voicing my concerns about the obscenities that I heard in the hallways, I made sure that no one would hear my voice mixed in with the others. Instead of showing disdain for those who did not put effort into their school work, I would simply encourage them while always putting a lot of effort into my own. Even though at times it was hard to lead by example, and sometimes I got frustrated when people would not follow me, I did notice a change in many of my classmates when they paid attention to my actions. Like Harriet Tubman, my type of leadership is not about commanding the people from above—it is about guiding them from within.
Living in China gave me opportunities for service that would be rare in North America. I was able to visit the poor out in the countryside and give school supplies to children; I was able to help rebuild orphanages and play with children who had no one. Most importantly, I was able to teach English to students who would never have been able to afford lessons being taught by a native English speaker. Teaching requires the type of leadership that I learned from Harriet Tubman: teachers sacrifice their time not only in the classroom, but also after school by tutoring, grading, and planning for future lessons; teachers have to teach according to the students' abilities, not at their own pace; teachers are understanding and help students whenever they are able; and finally, teachers push students to fulfill their potential. Being a teacher, for me, was a great privilege, and provided some of the greatest memories I have of interacting with the local Chinese community.
At times, being a leader can be tiring; there may be obstacles to overcome, issues to resolve, and relationships to mend. When these issues arise, it is helpful to have intrinsic motivation to keep things going. Personally, my motivation is trying to allow people to have a better chance in life, so that they can become leaders themselves. By being a good leader, and leading by example, I am able to show people the characteristics of a good leader, and am able to inspire them to follow my lead. This thinking is what has motivated me, not only to lead, but to serve others while doing so, and to do the best that I can in all areas of life.
My intrinsic motivation is not the only aspect attributing to my desire to lead; my faith also plays a large part in that. In Philippians 2:3-5, Paul writes:
Do nothing out of selfish ambition or vain conceit. Rather, in humility value others above yourselves, not looking to your own interest but each of you to the interest of the others.
In your relationships with one another, have the same mindset as Christ Jesus. (NIV) In this passage, Paul very plainly outlines what a good leader should do: a good leader should act in the best interests of others, humble themselves before others, and treat others as they themselves would want to be treated. These guidelines seem relatively easy in theory, but are difficult to put into practice, especially when obstacles arise. When this happens and I feel discouraged, I find it helpful to read from the Bible where stories are told of others who faced the same obstacles. Noah, Joseph, Moses, Joshua, Peter, and Paul are just some of the leaders in the Bible who led by serving, regardless of the consequences or the challenges they had to face. Reading their stories, I am able to find the courage to follow Jesus, and, like him, lead by placing others before myself.
Leading by example is a quality that everyone should have, and if that were so, the world would function more peaceably. Nevertheless, other qualities of leadership are important as well. Personally, during my time at CMU, I would like to learn how to lead with authority and control, while at the same time not losing the characteristics of leadership that I already have. A truly great leader encompasses a balance of both sides, and is able to use either tactic at the appropriate time. I believe that to become a teacher, the profession that I hope to prepare myself for at CMU, one must be a great leader, and be able to sacrifice one's resources for the good of others. Great leaders must be like Jesus, and place themselves in the position of a servant in order to enrich the quality of someone else's life. It is only through serving that we are able to truly see what being a leader is all about.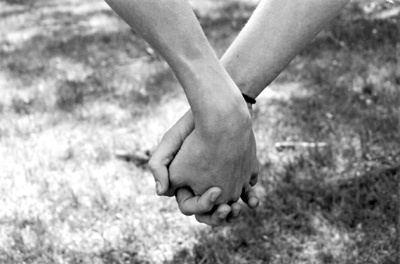 © Alexa T., Pompton Plains, NJ