The Tale of M&Ms on the Hospital Floor
March 16, 2014
Why am I crying? I mean, I'm barely three years old - am I always expected to provide a legitimate reason? Something really bad must have happened, though, considering I'm sure I was so cheerful a couple minutes ago when the nice nurse gave me some candy.

What would Blue's Clues do in this situation? Just this morning, I watched Blue help his friends find things they've lost. I start humming the song he sang through the television: "go back, go back, go back to where you were!"

So, I go back and assess my surroundings. I'm still in the stale-smelling hospital daddy rushed us to this morning. Somewhere, not too far I hope, my mommy and her big tummy are waiting for my baby sister to show up. Hospitals are a little weird, but everyone here keeps telling me that being a big sister is, like, the coolest thing ever, so I guess it's okay.

Now that I've remembered where I am, I look down at the white linoleum floors. Millions of gazillions of mini M&M's lie scattered around my sneakers. Seeing all the beautiful Elmo-colored, Big Bird-colored, Oscar-colored, and Cookie Monster-colored candies sparkling on the floor made me forget why I was crying in the first place. Boy, do I wish I was watching Sesame Street.

I turn my attention to the empty M&M's container laying limp in my palm. I start to tear up again. Instead of filling up my tummy and turning my tongue Sesame Street-colored they're wasting away on the floor. The combination of three-year-old sniffled cries and rattling of fallen rainbow drops finally catches the attention of some nurses. I frantically try to clean up the shiny, candy-splattered hospital floors.

"Go back, go back, go back to where you were!" I still repeat these words to myself fourteen years later. My food memory, as I like to call it, helps me take a step back into my identity. There was never a time when food didn't play this major role in my life. I remember my toddler years by chopped up tomatoes in a highchair, a barbie princess birthday cake, and an undercooked chicken cutlet. I remember my dog stealing string-cheese out of my hand and walking to Joanne's Pizza multiple nights a week, yet I can't alone remember the name of my pre-school teacher or my first hit in softball.

Now, however, when my family sits down for some of Mom's baked ziti, I consciously do something my mind did un-consciously my whole life: store the memories of everything we laughed over at dinner right beside the zesty blend of ricotta cheese and pasta sauce. Almost everything I've experienced, both good and bad, goes hand-in-hand with some sort of food-related anecdote. And, so, whenever the conversation of my sister's birth arises, I'm prepared and eager to share The Tale of M&Ms on the Hospital Floor.

By defining life's "bad eggs" by food, I am able to remember breaking my wrist at age seven by the gooey s'mores I devoured that day, instead of the pain. This, I feel, is why I'm always able to stand back up when life boils over. Sometimes when I'm left with a bad taste in my mouth, I'd rather grab a chocolate chip cookie that takes me back to a time when I was really happy or proud of myself than dwell in negativity. By doing this, I don't let the little things get me down. If I feel like I've fallen off track, or lost my momentum or something, I just remind myself to go back to where I was.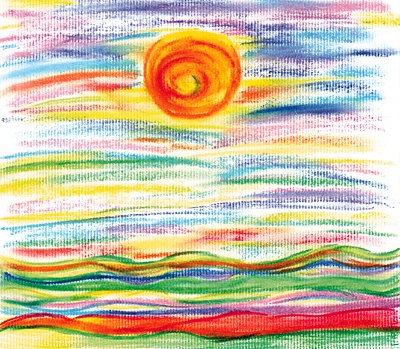 © Jennifer W., Saint Albans, WV