A Shakespearian Maxiam
May 30, 2012
In acting, the one thing that your character wants in a scene is called your super objective. It's a verb, a concrete and primitive statement. : "I want respect" "I want love" " etc. To obtain this super objective, you the actor may go through several different hows, or tactics. You want respect? How will you get it? Try and intimidate them? Oh, wait, that doesn't work. Hmm, maybe now you'll establish your ethos for them to take notice of, so they will have no choice. That doesn't work? Try something else. The actors in the scene are all being driven by these intense desires.

When I was working on a scene from Edward Albees A Delicate Balance in my acting class., the scene was falling flat even though I was playing my intentions. My acting teacher came over to my exasperated scene partner and I, and said "Raise the stakes." That's when I learned my lesson in acting: it's not good enough just to prefer that you get your super objective, you have to want it with a blazen passion, so intense that you will be forever changed if you don't get it. That is what makes a scene dynamic and resonant.

William Shakesphere said: "All the world's a stage." I didn't fully understand this sentiment as any thing more than theatrefolk jargon before I came to high school and immersed myself in the true craft of acting, rather than just reading lines on a page. But now that I have a wider perspective on acting and life, I see how the two are mercilessly intertwined. The world is billions of characters all making crucial decisions to get the thing they truly want. I have applied these acting techniques to my own life; if there is something I want, I will try a hundred different tactics in order to get it.

Just as I learned that a scene will fall flat if you don't raise the stakes, I have learned that this is crucial in life as well. The person who wants something the most in a scene will work the hardest to get it, come out victorious. I have realized that this is the same way in life as well: I keep the stake high in everything I do always resolving to come out victorious. I want admission to college? Study and work diligently and manage my time. Hopefully, this is the tactic that works. But, if it isn't, I will throw myself into another how with the same intensity and fervor, fully aware that I will be forever changed if I don't give everything in the process my all.

I have grown to approach life with a well-crafted character's passion and conscious choices of a trained actor. I can also understand the choices of others- where they come from, what other people are attempting to get, etc. I promise that at your university I will bring this approach to life to everything I do: schoolwork, relationships, and yes, acting. After all, all the world's a stage.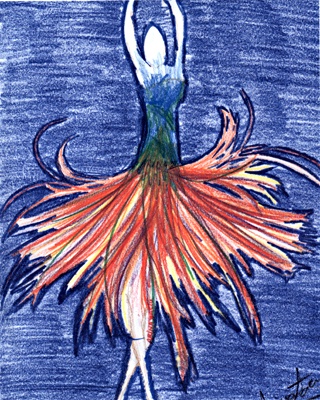 © Arina Z., Euclid, OH