Tradition!
MAG
Tradition plays an important role in the life of all cultures. Discuss a tradition your family, school, or community observes and explain its impact on you.

We stand at our panels and anticipate the question. The lights dim. The mood is tense. Suddenly, she storms into the room, dressed in a black trench coat and wearing red glasses. Music plays in the background, intensifying the pressure. Her voice pierces the room as she announces, "Let's play ... 'The Weakest Cousin.'"

It is show time. I look out over the audience and see a room filled with family. I think, This is my year. I am going to win! I am ready for any question. The game begins; I feel confident. The piercing voice hurls questions as my cousins, Caroline, Andrew and Josh are eliminated with the phrase, "You are the Weakest Cousin - Good-bye."

The last round arrives, and Matt and I are the only cousins left. Quickly, the host flips to the next index card and reads the final question. The answer will crown a winner. That crown is rightfully mine, but I have never beaten Matt.

"Who wrecked Aunt Rhonda's brand-new Volvo the day she got it?"

Matt yells, "Aunt Glenda!"

The host turns to Matt and says, "No. Your answer is incorrect." She then turns to me. "If you can answer correctly, you win the game."

My heart pounds. My palms sweat. This is my moment. Everyone sits on the edges of their seats as I concentrate on Aunt Rhonda's Volvo, and who in the world wrecked it. At the last second, the answer comes to me and I yell, "Aunt Donna!"

The host turns to Matt and says, "You are the Weakest Cousin - good-bye." She turns to me and proclaims, "Congratulations! You are the strongest cousin." Maybe it is an infatuation with game shows, or maybe my mother's side of the family is just plain odd. Ever since I can remember, we have performed parodies of game shows. While most families express what they are thankful for and talk about the pilgrims on Thanksgiving, my cousins and I are busy creating the family entertainment for an after-dinner show.

Over the years, we have produced versions of "Family Feud" and "Jeopardy," "Hollywood Squares," "Who Wants to be a Millionaire?" and "Wheel of Fortune." The show changes each year, but the idea remains the same, as we adapt popular shows to our family. We all get a huge thrill from the hilarious comments we make about one another.

Every year I stand at my contestant's panel, looking out at my family, and am overcome with joy. Nana Ruth and Bruce look on with a smile. My mom and Aunt Glenda cannot stop laughing, and my dad usually just looks confused. Each face represents the love we share. There really is no Weakest Cousin here. I am so blessed to be a member of this slightly odd family.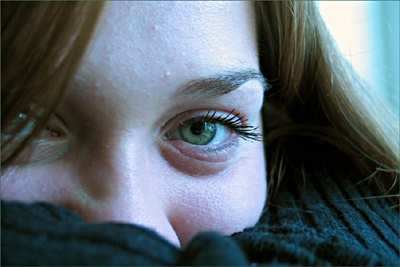 © Anonymous