Weightlessness
MAG
The elevator doors opened on the ninth floor and my sneakers squeaked along the shiny tile. Research findings plastered the hall like wallpaper. I rounded the corner to the Cardiovascular Physiology and Space Medicine Laboratory at UT Southwestern Medical School. What initially struck me as clutter was really a mini-museum of space history. Those framed catheters measured astronauts' arterial pressure during shuttle launches. My spine tingled as I anticipated my research internship.

My mentor, Dr. Peter Snell, was a lean, graying three-time Olympic gold medalist now enjoying a career in Exercise Physiology. He is studying the effectiveness of an exercise training regimen to counteract muscular atrophy during prolonged weightlessness.

The protocol required a subject, Mr. S, to undergo 37 consecutive days of bed rest. His continuous supine posture limited his entertainment possibilities to sending e-mails, watching movies and listening to music. My role included supervising his daily weight and aerobic training sessions and monitoring the cardiovascular and strength effects of this training.

Mr. S enjoyed his attentive family and friends but appeared to anticipate my daily appearance.

"Thanks for 'The Two Towers,'" he said, handing me the DVD. "Rip Pro time!" laughed the fellow with a goatee. The stale air rising from the sheets reminded me that bed rest was not conducive to thorough bathing. We rolled toward the weight-training equipment. Mr. S, always the comedian, grinned as we rolled up a ramp. "I always wonder what would happen if you just let go of the gurney and let me whiz down this hill." We laughed at the thought.

I saved the physiological data from the day's training. Mr. S breathed heavily and exuded an even more pungent aroma as we headed back to the room he called home. I marveled at his ever-positive demeanor. He responded, "By the last week, I'll be a grumpy old toot!" When he lifted the dome covering his meal, I felt relief that Mr. S was unaware of my lunch plans.

I scooped my scalloped potatoes from the serving dish with the same spoon used by Nobel-Prize winner and tried not to stare at the esteemed figure. Aside from treating me to lunch in the faculty dining room, Dr. Snell had invited me to a Grand Rounds lecture, an intimidating event, and my orange shirt contrasted with the stream of white lab coats. I reveled in the experience nonetheless: all the years of education, the sustained mental effort, the hypothesis for my future. At 4:30, I dropped in to say good-bye to Mr. S.

My research mentors taught me astute science lessons. What I learned from Mr. S, however, clarified my passion for human sciences. Subjects are people with personalities, families and needs. A good scientist or doctor acknowledges the whole person, and treats much more than physical maladies.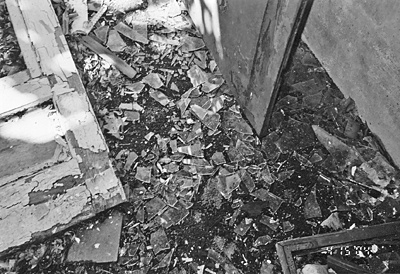 © Anonymous