Indecisive
MAG
One of the biggest, most important decisions a teenager must make is about college - not only when and where, but why and how. I had pondered the idea of furthering my education time and again, but had never been able to decide if I should. This contemplation combined with the stress, confusion and irritation that normally accompanies this decision and changed my junior year of high school.

Until the summer before, I had decided that I wasn't going to college. It wasn't that I didn't want to, it just didn't seem worth the trouble of finding a school, getting accepted, and then surviving college life. After all, neither of my parents had graduated from college and they had done just fine.

I had never truly known how to answer the question of what I wanted to be when I grew up. For a while, I wanted to be a ballerina, then a princess, then a rock star. As I grew older, my goals became more realistic. I was set on being a teacher or an artist; I had always loved to color and draw as well as teach everything I knew.

It wasn't until I went to a college fair (as a way to legitimately miss class) that I felt some relief in thinking about where my life was headed after high school. I saw a familiar name on a banner at one of the college-fair tables and when I approached, a friendly face welcomed me to learn a bit more about the university my cousin loves: Ferris State University. After spending what seemed like ages at that table, I realized that everything I had been interested in for a career was right there in the pamphlet. Not only that, but my best friend's interests were in plain print as well. The college representative led me through the brochure to a setting that seemed so right for me. Big Rapids, Michigan is a perfect location, right between my hometown and the town where my extended family lives. I would be close enough to visit either place but far enough away to experience life on my own. The idea of being with my best friend, since she was engrossed with this school as well, made the concept that much more alluring.

Since I was young, I have loved to write, and that passion never faded. To this day, I take English class to heart and write stories, essays and poetry any chance I get. So I decided, after a long period of negotiating with myself, that I would love to be a writer. I wouldn't say it was for the money since writers don't always go through life with money bursting out of their wallets - unless they're lucky and hit the big-time.

Rather, I would choose that option strictly with the goal of going to work every day loving what I did. I would live to write and strive to show the world who I am through writing. This is when I decided to be an English major.

During the last semester of sophomore year, I escaped from my third-level Spanish class to a Psychology course. I actually enjoyed it and was really pleased with my choice. More and more I appreciated what the class was about and the idea of a career in this area interested me. Sure enough, Ferris State offers a psychology major. I'm thinking about child psychology because I'm captivated by learning how the mind operates and working with children. Understanding and helping children seems to fit right in place with my idea of a fascinating career.

I have always found myself willing to stand up for what I believe is morally correct and have never been one to step down from a debate. My parents and teachers have told me they can see my future in some form of law and, I must admit, I take great interest in it and haven't eliminated that idea either. Though it isn't my first-choice career, being a lawyer would be exciting. Since my cousin is studying law at Ferris State, it more than likely will remain an option for me.

My ambition in life, after much thought and consideration, is to be someone I can be proud of, to do what I love to do every day and be successful and to convey to everyone, as well as myself, that I can accomplish anything I set my mind to. I must push myself and do anything and everything in my power to achieve it. College is a starting point. Many go to college to find themselves, among other reasons. I'm not sure what I would like to do with the rest of my life just yet - it may be law, child psychology or English - but I believe college is an excellent place to figure it out.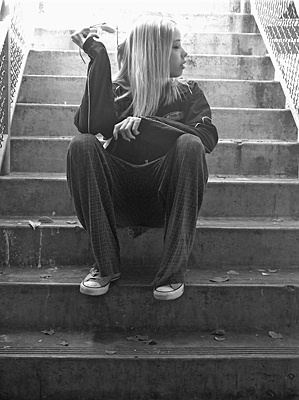 © Anonymous