If I Could ...
MAG
The instructor said,
Go home and write
a page tonight.
And let that page come out of you
Then, it will be true.
- Langston Hughes


Perhaps you recognize this poem. If so, then your mind has probably moved on to the question the next line poses: "I wonder if it's that simple?" Saying who we are is never simple. Write a truthful page about yourself for us, an audience you do not know. Each of us is of a certain age and of a particular background. We have lived somewhere and been schooled. We are what we feel and see and hear. Begin there and see what happens.

If I could live anywhere, it would be in a house with windows, on the beach, with the wind and the sand still in my hair. Paint would be there too, because paint is invariably in my hair and ink perpetually on my face. If I could live anywhere, it would be in that house with a library. A huge room filled with light and books and chairs. Chairs to sit in, chairs to think in, chairs to fall in love with or in. I would probably fall in them too, since I fall everywhere and anywhere. If I could live anywhere, even if it were my choice, I'd still get lost. I have the most peculiar talent of being able to get lost absolutely anywhere. I still haven't figured out exactly where I went wrong. If I could live anywhere, it would be on the beach, even though I am slightly afraid of fish and the dark. And crickets.

If I could live anywhere, I think Olivia (my sister) would be most welcome with her funny sense of humor. She'd come and yell at me for my unusually messy room, which will inevitably be worse than it is in my parent's residence. When I live anywhere, I don't think my age will matter. It hasn't yet. I don't act my age. I am not treated my age. Usually I am treated older, but I often act younger. I love watching cartoons with my little brother because even though he is nine he still doesn't know when to laugh.

When I live anywhere, Daniel will watch cartoons with me and I will go to his baseball games even though they are horribly boring. If I could live anywhere, I hope it will be tomorrow when we will run faster and this song in my head will be gone because the necessary coffee beans and green apples will be present. I am an eternal optimist, thus my certainty that tomorrow will bring faster feet and even if it is not tomorrow when the feet will come, they will most definitely be here next Wednesday. I pretend though, sometimes, to be a pessimist. Even when I live anywhere, I don't think I'll ever resign myself to live with pretenses or semicolons. I am terrible at both, especially the latter. I try to keep the pretenses in a bottle, but the bottle inevitably breaks or turns into a plastic grudge that will never be absorbed into the earth. There is nothing that I can do about semicolons and even though I do not use them others do, for example, Virginia Woolf. I like the semicolons in To the Lighthouse and in e.e cummings' poems. But not in anything that has my name on it.

When I live anywhere, I will paint and destroy my brushes with my oil paints. Paint pictures of everything and nothing that was ever meant to be, though I am not sure anything really is. When I live anywhere I think I might tell the truth because even though I am a horrible liar I lie constantly. Somehow I think I will stop lying and stop wishing to be away because that's where I will be.

Sometimes I wonder if when I live there in that house if particles of me will still float above my head waiting to settle into place. I often wonder if when I live there whether they will still know me. If I will still be slightly irrational and neurotic as my dad says. If I will still have to explain why my grandmother hates to be called Grandma and prefers her name, Joan. If things still will get lost or confused or broken especially around my bad karma and bad luck with machinery and knives. Will they still know all that? Some say no but I refuse to come to terms with the fact that they might not know me, and I them, forever. Forever seems to last until you say for it to end. I don't think I will ever say that. Or maybe forever seems long for me now, but it's not really.

I'm not sure exactly what I will know, but I know I will live there, in that house, on the beach, with my hair a mess and the paint. The pages of my books will flutter in the wind, the sounds whispering beckoning to all to come and read their tales of misery and triumph, love and woes, and how God went to beauty school. I think I might smile then, smile that smile that some people don't believe even though it is one of the only things I am sure of.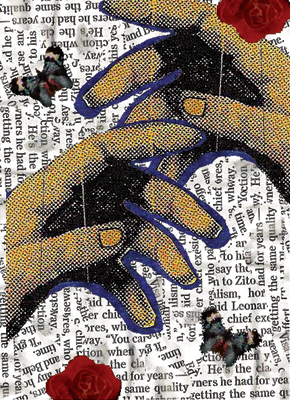 © Anonymous