First Day
MAG
January 4, 2010
Throughout life, sometimes change is the only thing that seems constant. Change has come to my life in many ways, in myself and in my surroundings. At the same time, some things stay the same – and this is when traditions are formed. I am often reminded of this by the photograph that sits by my bed.

It all began with a kiss on my very first day of school. I remember twirling around in the mirror, watching as my dark blue dress created a teacup around my waist. I admired the little ruffle of my shirt collar and how it matched perfectly with the trim at the bottom of my dress. I knew I would be the envy of all my classmates.

But somehow, something was missing. I reached under my bed for the large box of bows, in every color imaginable, that I was famous for. I picked out a white one that would match my shirt and carefully ran to my mom so I wouldn't ruin my hair. She clipped the finishing touch into my short brown bob and I was ready for my very first day of school.

After checking back in with my mirror, I heard my mom yell, "Picture time!" I sprinted downstairs where my mom led me to the spot. I absolutely loved getting my picture taken.

After several individual shots, and some with my older sister, Katelyn (whom I matched perfectly), my dad came for a picture of us all together. As I climbed onto my dad's lap, he wrapped his arms around Katelyn and me and we both leaned in to kiss him on the cheek. At that moment my mom snapped the shot, and our tradition began.

From then on, every year when the first day of school rolled around, we ­continued our tradition of pictures on the back porch. However, with each year, things changed. The plastic blue chair in the background was replaced by a more elegant iron one. The porch's stain changed from a muted gray to a rich shade of light brown, and somehow the gray utility box attached to the house became ­engulfed by the big green bush beside it.

The pictures grew with my family; when my two younger sisters began school, our tradition expanded from 15 minutes to 45. The mass chaos was directed by my mom when my dad was already off to work or away on a business trip.

As I grew, my style changed. My dresses became jeans and cute tops, and my tiny backpack with crayons, markers, and a sack lunch turned into a purse that held 10-pound books and spiral notebooks. My hair changed, too, from short to long, and my big bows got lost somewhere between third and fourth grade.

By seventh grade, Katelyn was wearing makeup. I soon followed, making our morning routine even longer. Once we got to high school, taking that first-day photo became a struggle for my mom as she stumbled out of bed, barely awake, and tried to take pictures in the dark before our ride came. However, she still managed to keep the tradition going.

Eventually, I faced the biggest change of all. This year, waking at 6 a.m. on the first day of school seemed too quiet. It took me a few seconds before I looked over at my bedside and saw the picture of my very first day of school. That's when I realized that Katelyn, my big sister, was gone, off to college, and today was my very last first day of school. I went downstairs where my mom waited to take that final first-day picture. I sat in the same spot where we had taken that first picture and thought back to how much everything had changed. Where had the time gone?

With the pictures taken, I was getting ready to start my car when my dad came out to say good-bye. As I kissed him on the cheek, I realized that although a lot of change had happened, there was still one thing that had definitely stayed the same. For that second I felt like a little girl again.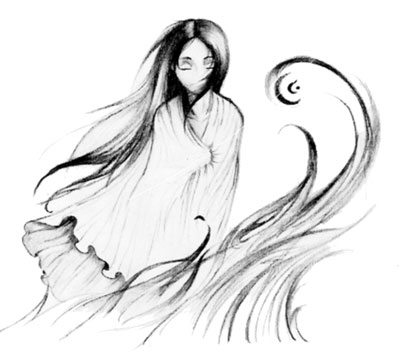 © Anna Y., Hernando, MS